Family Day Care and Group Family Day Care Regulations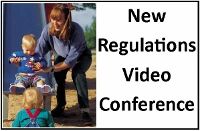 From OCFS Website:
Administration and Management with a Focus on Child Day Care Regulations
This video conference training, with live participation from Janice Molnar PhD, Deputy Commissioner and Kathleen Pickel from the Division of Child Care Services, outlines the newly adopted and proposed child care regulations. The major changes to the adopted Family Child Care and Group Family Child Care regulations are discussed in detail. The regulations will go into effect on May 1, 2014, so it's important that you become familiar with the changes and reviewing this training can help you be prepared for implementation. This video also reviews the proposed changes to the Child Daycare Center and School-Age Child Care regulations so you are familiar with these anticipated changes. Many questions and concerns from providers were also addressed during a live question and answer segment.
---
The formatted versions of new family and group family child care regulations are up on the OCFS website. You can get to them HERE
Formatting includes indentations, bold and headers to help you figure out where you are in the regulations.
---
Day Care Center and School Age Child Care Regulations
From the OCFS Website:
04/30/15 A Closer Look at the New Day Care Center and School-Age Regulations
The New York State Office of Children and Family Services Division of Child Care issues regulations that child care providers are required to follow to keep the children and families they care for safe and healthy. These regulations have been put into law to present providers with a strong foundation from which to build their child care program. New regulations went into effect for family-based child care programs in 2014 and day care center and school-age child care changes will go into effect on June 1, 2015.