Making the Arrangements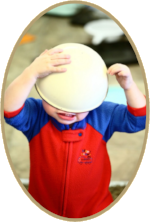 Visiting and Interviewing
After reviewing your child care needs and familiarizing yourself with important aspects of quality care, you will be ready to begin investigating specific programs. In the case of day care centers, you should try to visit a number of centers several months before the time you would like to enroll your child, particularly in the case of infant and toddler care. There is a great shortage of center care for infants and toddlers. In fact, there may be waiting lists for infants and toddlers.
If you are unable to conduct your search so far in advance, it is very important to act immediately on the referrals you receive. If you wait even a day, the opening may be filled.
You will want to visit family day care homes somewhat closer to the time of enrolling because many providers do not know what their openings will be and usually are not able to hold spaces.
You may be able to do some of your screening of child care programs (particularly in the case of family day care homes) over the phone. In your telephone interview, verify the information supplied by the referral service, hours, fees and openings, Once you have determined that you are interested, make an appointment to visit. Pick a time when children are in care and bring your child with you. Allow at least an hour for a visit. Take along a list of questions and things to look for during your visit. While you are there, ask for informational material such as parent handbook, brochure, information sheet or parent provider agreement. After your visit, these materials will help you in your decision making.