Problems
Chances are you will find an arrangement that will provide a good experience for both you and your child, but there is always the possibility that problems will arise. These may be minor, such as misunderstandings between parent and caregiver, or they may be more serious, involving licensing violations, neglect or abuse.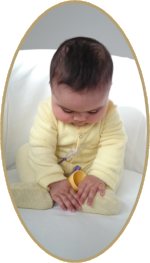 Here are some suggestions for dealing with problems as they arise:
Misunderstandings

The best course of action is prevention. From the very beginning, speak frankly with your caregiver. Make sure your expectations are clearly understood. Establish clear agreements in advance. Make it a habit to ask questions and talk with your caregiver on a daily basis about your child.
Even if you practice good communication techniques, misunderstandings may still arise. If there is a disagreement, talk directly with your caregiver and let him/her know that the issue is important to you. Be honest. If the problem is not easily resolved, talk with the referral specialist at the Child Care Council. If the conflict cannot be resolved, you may choose to seek another arrangement, but this should be a last resort.

Adjustment Difficulties

The transition to a new child care program can be difficult for both parent and child. Your child will probably experience the pain of separation most acutely during the first week and even for longer than that. You may also feel uncomfortable with this separation. This is normal and healthy for both parent and child. Accept the fact that each of you needs time to get used to this new arrangement.
If, after a reasonable adjustment period (3 to 4 weeks), your child does not seem at ease with the care provider or environment, you may have cause for concern. Talk with the center director or provider. Ask for suggestions on how you can facilitate your child's adjustment. Share ideas about why the child may not be adjusting.
If your child begins to show signs of stress, such as unusual toileting accidents, disruption of eating and sleeping patterns or a strong unwillingness to be left with the provider, you may want to consider changing programs.

Licensing Violations

You may discover that your child care program is not complying with licensing requirements and the violations appear to be serious. For the safety of all children, be sure to report any violations to the licensing authourities (Spring Valley Regional Office (845) 708-2400) and/or to the Child Care Council. It is through the responsible actions of parents that the quality of child care programs can be maintained. It is also the policy and the responsibility of the Child Care Council to report any and all violations. The referral service can also help you consider a new child care arrangement. If you have any questions or concerns, please call us at (845) 473-4141.

Child Abuse and Maltreatment

It is unlikely that you will encounter child abuse or maltreatment. However, don't rule out the possibility. If your child is reluctant to go to child care, there are many possible reasons. Listen to what your child says and take what he or she says seriously. Look for sighs of stress in your child. If you do suspect abuse, do not hesitate to report it to the New York State Abuse and Maltreatment Register at 1-800-342-3720. Be sure to also inform the referral service of your suspicion.
REMEMBER

The key to good child care is informed parents who are involved in their children's programs.