Beyond the Basics: Indicators For a Higher Quality Program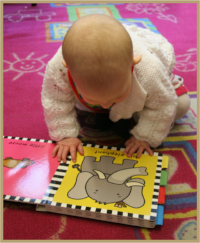 In a quality child care environment, caregivers respond positively to differences in children's abilities, interests and experiences. Children with and without disabilities develop an appreciation of each other and of individual differences. The focus is on planned developmental activities - individualized or in small groups. The environment will provide needed predictability and routine, as well as novelty and stimulation. Your child will grow and learn physically, emotionally, intellectually, and socially alongside his/her peers. You and your child's caregivers will develop a mutually respectful communication system, building and enhancing understanding and trust, leading to optimal development of your child.
A program should offer...
A low rate of staff turnover
Better staff/child ration than required
A written curriculum
Daily or weekly activities that will help children learn
Age-appropriate materials that are accessible to the children
Quality books that are culturally diverse
Manipulative toys such as blocks and puzzles
Creative materials such as crayons, paint, paper, and paste
Riding toys, climbing structures, pull toys and balls
Space for running, jumping and quiet time
Grown-up clothes, household items, and dolls for dramatic play
Music activities such as singing, dancing, and simple instruments
Toys that are culturally sensitive
Opportunities to explore nature
Time for individual and small-group play
A balance between outdoor play and indoor activities
Field trips to parks, the library and other places of interest